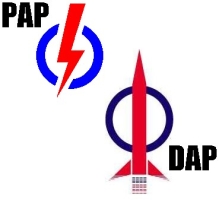 Something has happened to the little red dot down south. One sex scandal after another involving government officials.
Yup, we are talking about Singapore where the people think they are superior than us and do not let us forget us. You see, they suffer from the short man syndrome – their country is just a little red dot and to feel big, they gotta run down their neighbours.
Well, revenge time, we are about to run them down now.
A few days ago their chief of Civil Defence Force was dragged to court for corruption, err, not the money type but the Anwar Ibrahim type.
The fella is accused of procuring sexual favours in the award of government contracts. He was charged on 10 counts of soliciting oral sex from three women whose companies were bidding for IT contracts.
He also had a strange name – Ng Boon Gay but he is quite straight as far as we know.
And his wife is standing by his innocence and, no, her name is not Wan Azizah.
Mr Ng looked like the typical Singapore Ah Pek or Uncle but he was as gatal as the average Malaysian politician.
In Singapore, they are called "Chico Pek" (gatal ah pek) in Hokkein.
The gatal fella had graduated from NUS with a first class honours and won a government award where the citation read: you cannot choose how you die but you can choose how you live so we had better live life to the fullest.
He believed in living by his motto. Good man!
The steamy scandal came close on the heels of an even bigger sex scandal that saw 48 men accused of procuring sex from an underaged hooker.
She was no ordinary hooker though – she is a tall willowy and sexy polytechnic undergrad called Steph Thia aka Chantelle (her professional name).
Chantelle apparently was very laku because she could provide the girlfriend feeling for her clients.
Her horny clients are not ordinary either. They included a school headmaster, a police officer, a PAP party official, a banker and the scion of a famous show biz family – grandson of Run Run Shaw, the boss of TVB and formerly Shaw Brothers.
Recently Singapore also held a by election after an MP had to resign because he was having an extra marital affair with a party worker.
No, his name is not Azmin and, yes, his wife also standing by him even though he is guilty as hell.
What has happened to the squeaky clean image of Singapore that they are always boasting about? How come they are just like us?
Padan muka, say us some more la. but we are wondering whether the accused officials are going to claim the stomach not mine, the nose belong to someone else, my hair different, the photo is photoshopped by Tian Chua, it's fitnah by Umno and BN.
Sorry, guys. Umno and BN not interested in Singapore politics but if you people are interested in Tian Chua, you can have him. Pak Samad, our Singaporean Bersih poet may have a poem for this.