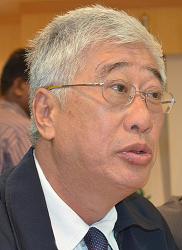 Penang DAP state exco member Phee Boon Poh is upset with bloggers who have asked whether he has a New Zealand permanent resident. He has challenged the bloggers to retract their statement.
HE HAS DENIED but he hasn't said if he had one and neither has he explained to the press about his properties in New Zealand.
But he should not be worried about the bloggers. He should be worried about his fellow Penang DAP leaders who smiles and hugs him daily, calling him "brother" but are ready to put their knives on his back.
He should know by now that all the juicy bits of information and misinformation are leaked from the DAP. DAP leaders like to project themselves as the champions of the people. We all know Lim Guan Eng and his DAP men are basking on the support of Penangites.
Still, politics is about power, greed and ambitions. The new upstarts in DAP, mostly those who studied in Taiwan because they can't pass their Bahasa Malaysia and English papers, are busy plotting to overthrow veterans like Phee Boon Poh and Lim Hock Seng. Even Karpal Singh is feeling the heat.
They need to make life miserable for people like Phee Boon Poh because they aim to replace these state assemblymen before the next general election. If they fail to do so, they are plotting to get rid of these veterans at the next party polls.
The Mole has more insight of the back stabbing in the Penang DAP.