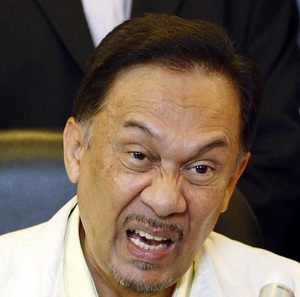 On September 12, 2008, a group of PKR leaders boarded a 2pm flight to Taiwan.
These frog recruiters were Saifuddin Nasution, Tian Chua, Low Chee Cheong and Elizabeth.
They were there to carry out a massive recruitment exercise deviously cooked up by Anwar Ibrahim.
Their mission – to bring down the democratically elected federal government of the Barisan Nasional.
If money has to be used to buy these 41 Sabah and Sarawak BN MPs who were on a tour of Taiwan, use the cash by all means.
In short, by hook or by crook. But not a single MP gave in.
Tian Chua even boasted of the trip, proclaiming the PKR leaders would stay in the same hotel as these BN leaders and that the Pakatan Rakyat was ready to take over the federal government.
Today, the same psycho path Tian Chua – known to be an absentee MP – is loudly proclaiming the virtues of an anti-party hopping law.
Of course, there are enough idiots who would believe him. Just as many people have forgotten his amateurish cut and paste job of doctoring a picture of Najib and Altantuya.
Tian Chua, is of course, a leading steward in Suaram.
In 2008 when PKR was launching this frog jumping plot, none of the NGOs like Bar Council, Aliran and Suaram said a word about ethics and morality.
They were probably busy making the frog exercise a reality. But what can we expect of these hypocrites in Aliran and Bar Council?
When the then Pakatan Rakyat Perak state government persuaded Bota Assemblyman Nasaruddin Hashim to join PKR, he was lauded as a brave man who dared to quit Umno. Anwar Ibrahim welcomed him into PKR.
But when he returned to BN and joined by other PR ADUNS, they were quickly dismissed as frogs.
Books have been written by apologist lawyers from Loyar Buruk condemning the collapse of the PR government but strangely these NGOs welcomed Nasaruddin as hero when he joined PKR.
Something must be really sick in the heads of PR supporters who talked about changes in the name of justice and principles.
Their defination of "righteous" leaders – Anwar Ibrahim the sodomist, adulterer is supposedly righteous and best person to be PM?
Perhaps Nik Aziz or Hadi Awang – who can't wait to impose hudud on non-Muslims ? Or For Lim Kit Siang to be PM?
Even Lim Kit Siang openly praised defectors from BN in Sabah recently! In the name of political expediency, all principles have been thrown out.
What they are care now are positions and even DAP leaders have now become more PAS than PAS!