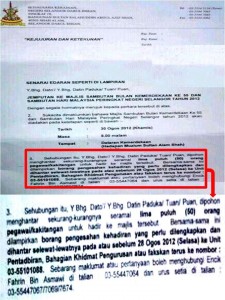 The whole world knows how Khalid Ibrahim and his state Cabinet sidelined the Sultan during the Merdeka Day celebration, and how they tried to find scapegoats when it started to backfire and draw flaks.
First, they said Anwar Ibrahim – the Pakatan Rakyat's godfather who holds no official portfolio in the state government – was the guest of honour but later changed it to just a guest speaker. Which one, only Khalid, Anwar & Gang know!
Well. That was not all.
Days before Merdeka Day, they issued out circulars to all civil servants in Selangor, asking them to find time and attend the Merdeka Eve celebration in front of the SUK Building, Shah Alam.
However, the response was very poor as most of the civil servants who support Barisan Nasional were not interested at all to join the Pakatan-style celebration, anticipating it would be a platform for Anwar and his Pakatan Rakyat to hammer the Federal Government.
Khalid was taken aback. Not having enough attendees would reflect his loose grip on Selangor, especially on the civil servants.
However, his dirty mind did work well.
And so, he directed his officers to issue another circular, this time offering an extra RM200 bonus to any civil servant who submits his or her name agreeing to join the Merdeka Eve celebration.
Pathetically, not many turned up on that evening. Only about 200 members of the public service who sympathised Pakatan Rakyat joined it, together with 1,000 opposition members and leaders.
What a cheapskate Khalid is! Knowing how his government's popularity is taking a steep dive, taxpayers' money is being robbed to buy votes, sympathy and support. While the state purse is shrinking over unnecessary expenditures, the Mentri Besar is left to no choice but to grab all the slim opportunities left to stay in power.
O-ooppss…. wait!
Khalid actually has no worries over funds. His DAP Exco members know how to look out for big money to support his politics.
Loan sharks, online game operators and 'tauke ayam' are finding Selangor the best place to 'cari makan'.
Just go make at least a 3-day round from Kinrara, Puchong, Shah Alam, Klang, Banting, Beranang, Petaling Jaya, Kajang and other places, they are everywhere.
Ask the operators who are their 'bosses' and they will name a few. I bet readers know who they are.
No wonder Selangor can buy support and pay its cybertroopers a few hundred thousand ringgit a month.
Money is no problem but I think Khalid and his people should save the money for good lawyers.
If BN manages to take over Selangor in the next general election, Khalid and friends will find no time to relax as they will be too busy attending court cases!